13 March, 2020
By Admin
Category: Accommodation Price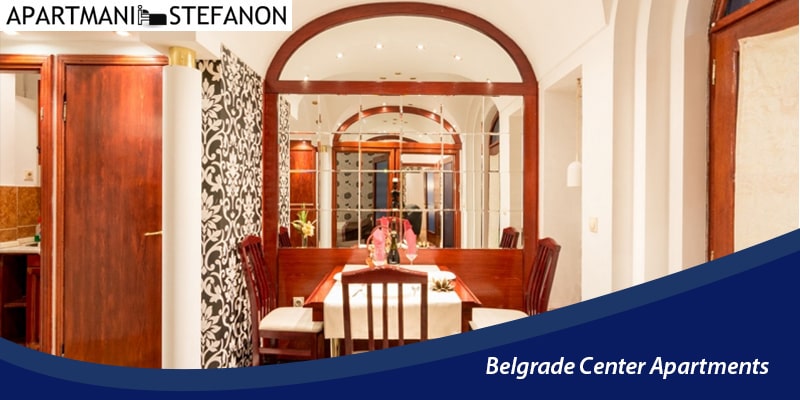 Traveling trends have taken a hike in recent times. In such a scenario, people are taking more interest in rental apartments more than hotels for short stays. The same situation now persists in Belgrade, Serbia, which has recently become one of the offbeat places that the travel junkies are flocking to. The Belgrade Center Apartments serve the purpose of an alternative for hotel-like accommodation either for a short stay vacation or long-stay business tours. 
All the rental apartments in Belgrade Serbia are provided with furnishings and utensils, which you can use for cooking. The short term tenants can enjoy their vacations entirely without having the out-of-context feeling on their trip. These rental apartments contain all the luxurious arrangements of the hotel rooms but without being hefty in your pocket. You can choose the apartments according to your needs of budget and luxurious accommodations. 
In this article, we have listed a few reasons that tell you why you should go for the rental Belgrade Center Apartments instead of hotels. Dig in to have a clear view of all the reasons that will make your vacation trip memorable. 
1-The homely feels would never leave you:
While traveling is all about leaving the humdrum of life behind, one of the things that we miss is the homely feeling. Although the experience of new sights and sounds is overwhelming, missing the feeling of living in a home is natural. What if you could get both things at a time –you get to travel too without missing out on your stay at home? Now, you must wonder how that is possible. Well, if you rent Belgrade Center Apartments while your trip to Belgrade, you do not have to miss out on the feeling of living under the comforts of your home.
The vacation rentals are one of the smartest imaginations concocted into reality to give you the comfort of your home while you are enjoying your holiday. The familiarity feeling that you get in living in a rental apartment is going to help you relax better. Imagine your day spent in a private pool, while enjoying the sumptuous cuisines served by the seasoned chefs and enjoying the nature, with all the homely feelings.
2-You can beat the crowd:
Getting a vacation is something that is desired by almost anyone, and everyone provided the time and money. But, if you are a frequent traveler, you would know that the biggest annoyance of a vacation trip is the crowd. They can interfere in between the perfect moments and sometimes can come across as intruders as well. If you are not a people person and want some time away in solitude, then renting the Belgrade Center Apartments could be your ultimate escape.
The travel websites that you follow or the magazines that you read to know about a place, never depict the hordes of the crowd that the place attracts. And more often than not, people prefer living in a hotel as compared to any other modes of accommodations. However, sharing the amenities –the pool and the gym or even the bar could come across as a headache. Therefore, you must take your chance to avoid the crowd also while you enjoy your favorite holiday destination. You can do that by renting a serviced apartment and spend your holiday staying in it.
3-Perfect accommodation to spent time with your loved ones:
Housing in your favorite holiday destination could be expensive. It can overpower your budget unless you are prepared to cut corners. If you are planning on traveling with your loved ones –the cost increases to manifold times. You could plan on splitting the bill, but you would still have to compromise on something or the other. This is when the vacation rentals, come into your rescue. Even when you are traveling with your entire family or so to say with five or six of your friends at a time, you can find the perfect Belgrade Center Apartments without having to break your bank balance.
The holiday apartments that you are going to find in Belgrade feature at least two, three, or four bedrooms. You can make your bookings according to your requirements. The rooms are mainly designed to give you your private space so that everyone can enjoy their vacation without having to compromise with their peace of mind. The apartments are not only equipped with ensuite bathroom showers, but you will have the pleasure of gathering up in the common room to spend quality time with your people.
4-Best time to bring on your culinary skills:
One of the perks of traveling is you get to feast on different cuisines of food that you could never have. From fine dining to street favorites, it covers half the fun of traveling to faraway places. However, what do you do when you crave home-cooked food even while you are on your trip? If you choose to stay in a hotel, you can't do much about it. But, when you go for the Belgrade Center Apartments, you have an entire well-furnished kitchen at your disposal. The kitchens that are provided in the rental apartments are, most of the time, well equipped.
The best part about these kitchens is you can have a good time bringing up your culinary skills while you are sharing the apartment with your loved ones. You can even host a private barbecue party, including the inmates sharing the apartment with you. Make use of the modern appliances to whip up the food items of your choice and serve them on cutlery and crockery of your choice. When you opt for a vacation rental that comes along with a complete kitchen, the dining needs of everyone can be successfully met.
Bottom Line:
Whenever you are planning on taking a holiday and are convinced to book the rental apartments, then you must keep one thing in mind. That is, the holiday apartment shouldn't merely be an ample space because that is not what you are going to enjoy during your vacation. You must lookout for the necessary accommodation facilities and make sure the apartment that you are booking gives you the homely feeling just as the Belgrade Center Apartments. The main agenda behind booking an apartment on your holiday trip is not to miss out on the comfortable and cozy atmosphere of a home. 
If you are planning a trip to Belgrade and are in need of Belgrade Center Apartments, you can get in touch with us at Apartmani Stefanon. We have all sorts of options to offer to you that will cater to your needs. To make your bookings or to know more about the apartments, you can call us at +381 64 42 999 44. You could also drop us an email at [email protected] or make a Skype call at stefanon.apartmani.