17 July, 2020
By Admin
Category: New Belgrade apartments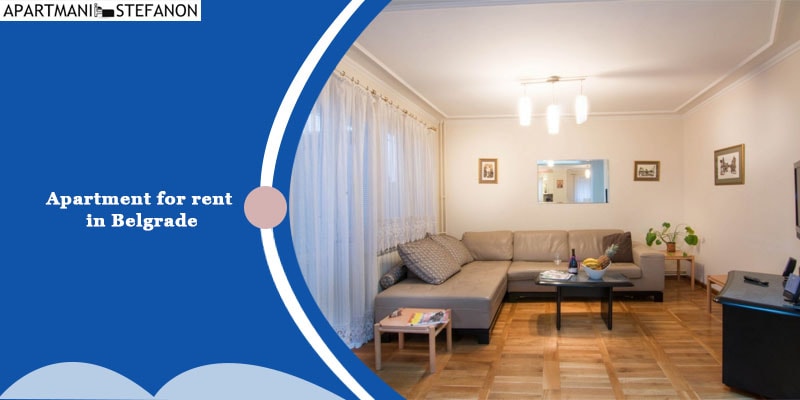 How to find a perfect short-term Apartment?
If your job involves being constantly on the move, then getting a permanent apartment for yourself is of no use. As you hop from one city/country to another, you'd need a place to stay. If hotel stays are not your thing, then you should definitely go for short-term apartments. Unlike hotels, by getting a short-term apartment, you get more space. Also, they might be less fancy than a hotel, but they're as comfortable as your home. If your next project is based in Belgrade, it's recommended to get an apartment for rent in Belgrade.
Several companies have come up to provide accommodation of your choice. If you're ever in need of a short-term apartment, you can always look over the internet. However, now some of you must be wondering how do you get the perfect apartment. Well, before going into details, let's first fully understand what a short-term apartment is.
How do Short-term Apartments Work?
The site which deals with providing short-term apartments allow people with extra room, share space, or an entire apartment for rent in Belgrade. In their websites, they write descriptions, host lists, post photos online for advertisement. All the details that you'll ever need will be up on their site. To get done with your booking, you just have to go over all the options available at the site, find an apartment of your choice, create your account, and request for booking. You'll be sent the confirmation, once the house owner accepts your request.
Not just that, some websites also allow a user to book an apartment instantly without having to wait for the owner's permission. Also, you can read about the apartment and the host, the reviews, and all the amenities that are included. Apart from that, to be sure about your location, most sites offer a map. In this way, you can get an apartment which is close to your temporary office or a place of attraction. Whether it's a stay of 2-3 days, a couple of weeks, or even a couple of months, you'll get an apartment without much trouble.
Features to look for in a short-term apartment
For your short-term apartment to be perfect or comfortable, it should have the following features/amenities.
1. Kitchen:
One of the things that make your stay in short-term apartments better than hotel stays is the availability of a kitchen. Unlike in hotels, you get to prepare your meal just the way you like it. The site should've photographs of the kitchen area and the appliances to give you a clear picture of how it's going to be. If a home-cooked meal is your first priority, while looking for an apartment for rent in Belgrade , make sure the kitchen has pans, pots, and other necessities. Kitchen furnishing plays a big role in your stay, especially when you're fond of home-cooked meals.
2. An extra room
While you're out of town for a business trip, go for a short-term apartment instead of a hotel stay. This is because when you stay at a hotel, there's only one room for you, and you've to eat, sleep, and work inside the walls of that particular room. If you're claustrophobic and you can't be bound within a small space, get a short-term apartment.
Since these apartments come with a kitchen, bathroom, dining, bedroom, and a study room, you can move all-around freely. This way, your bedroom would only be for sleeping, and you can concentrate on your official work in the study.
3. Bed
Different apartments come with different kinds of beds, such as a pullout couch, futon, or a king-size bed. While you're searching for an apartment for rent in Belgrade , you'll be given every detail about the place. Not just that, you will also be provided with the kind of mattress the bed has, it's the size and everything.
So, make your choice accordingly. The problem with a foldable bed is that you've to fold it every morning you wake up, or else it'll cover up most of the space. Do proper research and go through the pictures before you book your stay with any house owner.
4. Other considerations and amenities
Additionally, to make your short-term stay productive and perfect, the apartment must have the following features.
Wifi: Wifi is very important if you are on the move for official work. So, while going through the details of the apartment, look through the reviews, and see if anyone has commented regarding the same. You can also directly contact the site and ask whether it has got a WiFi-connected apartment or not.
Washing machine: Even though going to a laundromat is not much of a task, having a washing machine can still save you time. While staying overseas, finding dryers isn't easy, and this is why having a washing machine at the apartment is preferable.
Parking: If you're covering the distance by road with your own vehicle, make sure the apartment you've chosen comes with a parking area. Where would you place your expensive car if there's no parking space?
Elevator: Dragging yourself all the way to your room through the stairs is a nightmare, especially if you've got knee problems. So, see whether your room is located at the ground-level or upstairs. And even if it's located upstairs, see whether it has an elevator or not.
Read: Why should corporate stays switch to service apartments?
Conclusion
Since everyone has different requirements or expectations, our checklist might not be similar to yours. We aim to convey that you should look for all the amenities or features while getting an apartment for your short stay. You might not get a place which fulfills all your requirements, but your visit would still be more comfortable than a hotel stay. When you've access to home-cooked meals, a spacious room, a wifi connection, a comfortable bed, and an extra room to work, what could you possibly ask more? Most of the rental sites are now working day in and out to bring you the best apartments with most amenities and features.
If you're looking for a reliable rental site that offers the best short-term apartments, then ApartmaniStefanon is your one-stop solution. Our apartment for rent in Belgrade is the blend of luxury and comfort and is located in some of the popular places in Belgrade. Our apartments come with facilities like TV, shower, bed, Wifi, furniture, kitchen, and much more. One thing you can be sure about is, there are no hidden charges or extra commission for renting out apartments. Our prices are best and competitive in the industry and won't empty your pocket for providing comfort. We've flats that are just 20 minutes away from the airport. You're just one call away from making your stay memorable and comfortable with us. If you've got further queries, contact us via mail at [email protected] or call us on +381644299944..