30 July, 2020
By Admin
Category: Hotels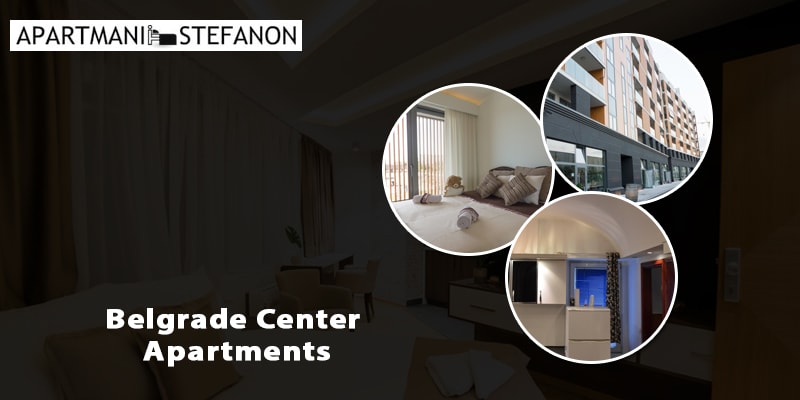 Top 10 tourist attractions to check out at Belgrade during your stay at rental apartments
If you ever pay a visit to Belgrade for some official work or any other work, you must be wondering what you can do during your free time while you stay there. Well,you should not forget that there are a plethora of tourist spots in Belgrade that'll take your breath away. The city has earned its reputation because of both modern, as well as historic tourist attractions. While you look for Belgrade Center Apartments, you can choose one which is near to a tourist spot.
In this guide, we've curated a list of most popular tourist spots that you should definitely visit when you're here.
1. Skadarlija Street:
Skadarlija street is all about young people enjoying Belgrade's spirit with the old-town band's live performance. Also known as the "Montmarte of Belgrade," this street was once a focal point of Yugoslav and Serbian artists, poets, and writers. Restaurants have worldwide celebrities as their regular guests, and they take pride in that.
What separates Skadarlija from the rest of the places, is its beautiful history, promenade,and its popular traditional Belgrade restaurants and taverns. Do pay a visit to this place to relax with a drink, while the music inthe background soothes your mind.
2. Ada Ciganlija:
For a dose of entertainment in the evening, Ada Ciganlija would be the perfect place. You can go rollerblading or cycling on the nature paths and bike trails surrounding the lake. All around the year, several sports events are held in which people participate in large numbers.Whether its water-skiing or bungee jumping, the place offers a lot of activities to keep the tourists engaged.
However, if you're visiting this place during summers, you'd find a bunch of locals lounging by the seaside. With plenty of restaurants and bars to freshen you up, you can also join the flock of Belgrade locals.
Since these apartments come with a kitchen, bathroom, dining, bedroom, and a study room, you can move all-around freely. This way, your bedroom would only be for sleeping, and you can concentrate on your official work in the study.
3. Republic Square
Situated amidst the town of Belgrade, Republic square flaunts the most famous public buildings, such as the National Theatre and Nation Museum. It's particularly famous for Prince Mihailo's monument on the back of a horse. This was built to symbolize his achievement of the 19 TH century. Currently, this place is brimming with tourists because of its lounges, beauty, cafes, and restaurants. You can easily get an apartment near this place. Just type in Belgrade center apartments near republic square, and you're done.
Being one of the most important landmarks of Belgrade, this Orthodox church stands proudly at the Tasmajdan park. The church was built in the memory of Evangelist Mark and Holy Apostle. Not just that, being the most imposing and second-largest church in the city,it's also home to the tomb of Dusan the Mighty, Serbia's strongest and most powerful ruler. This place holds great historical and cultural meaning for the people of Serbia.
5. Zemun:
 Zemun is all about independence and history. Back during the 1930s, Belgrade has swallowed up Zemun, which was a part of the Austrian Empire. This is why you'll experience a different kind of atmosphere when you visit this place. Apart from a different atmosphere,you'll also get to see one of the finest views, which isthe Millennium Tower and Gardos Hill.If seafood tickles your fancy, then this place should be top on your one-stop list. Don't forget to set the location near Zemun, while you're searching forBelgrade center apartments online.
6. National Assembly
If you hold interest in visiting historical places, then the National Assembly is a must-visit.Serbia's history was writtenin this particular place. Here, Slobodan Milosevic was forced by the people to accept the presidentship of the Federal Republic of Yugoslavia. As Serbia's biggest revolution happened here, this place holds historical importance.
You should not miss this incredible beauty, which witnessed Serbia's biggest revolution in modern history. Successful people such as sportsmen are welcomed here after their victories, and concerts are held in this building regularly.
7. Cetinjska Street
Cetinjska Street is always brimming with Expats, Hipsters, Tourists, Artists, and alternative souls. Zaokret, Dvoristance, and Polet come under the most visited venues. During the morning,Polet is occupied by coffee lovers, and during the afternoon, people come here to taste the best wine. Apart from that, Polet remains famous, particularly for its Art Gallery,which hosts interesting exhibitions frequently.
Dvoristance has earned its popularity for being the ex-home of Hipsters. However, in recent times, it entertains a crowd of people enjoying wines and coffees. Lastly, Zaokret gets its reputation for being a pre-party venue with good music during the weekends. Several Belgrade center apartments are available near this place to choose from. Make sure you book your stay ahead of your arrival to ensure availability and avoid last-minute issues.
The tower has got its name from the mount over which it stands proudly. Located in the southern suburbs, the structure is an observation and telecommunication. It flaunts an amazing height of 205 meters, and that is why it's considered as the tallest tower of Belgrade, Balkans, and Serbia. Apart from providing an amazing view, the base also has an ethnic-gallery, souvenir shop, restaurant, sports field, and an outdoor gym.
Not only it's a pride for Serbia and Belgrade, but it also is a symbol of honor for Yugoslavia.During 1999, this structure was destroyed by the forces of NATO, but it again got its former look in 2009. One can get a splendid view of the surrounding on a regular sunny day.
Conclusion
Belgrade has everything that's required to make someone's trip memorable as well as relaxing. With a tangible history, monumental architecture, and happening nightlife, this city never actually stops.Now that you know about all the places that'll make your trip worthy, don't forget to look for Belgrade center apartments before you pay a visit. Their people, culture, architectural design,natural beauty, food, music, and dance will be etched onto your heart forever. You can binge on some yummy-licious food while you enjoy the nature's beauty. What could you possibly ask more for a soothing vacation?
ApartmaniStefanon is your ultimate solution to all your rental apartment queries. Our team brings your apartments in Belgrade, which are tailored to fit your budget and needs. If you're not a big fan of hotel stays and you're looking for something home-like, then you've come to the right place. With all necessities such as a parking space, WiFi connection, kitchen, kitchen supplies, washing machine, TV, furniture, bed, carpet, curtains, and bathroom, we try our best to make your stay as comfortable as possible. Whether you need an apartment for 2-3 days, a couple of weeks, or even a month, we'll bring the best apartment for you. If you've got any other doubts, contact us via mail at [email protected] or you can also call us on0644299944